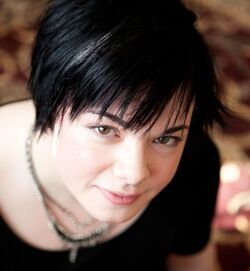 Erin Morgenstern (born July 8, 1978) is an American writer and visual artist best known for her debut novel, The Night Circus.
Biography
Morgenstern was raised in Marshfield, Massachusetts and still lives in her home state. She graduated from Smith College in Northampton, Massachusetts in 2000 where she studied theater and studio art. In addition to writing, Morgenstern paints (mostly in acrylics). Her most notable work is the Phantomwise tarot card deck.
After being rejected by thirty literary agents, Morgenstern signed with Inkwell Management in May 2010 and sold her debut novel to Doubleday in September 2010. The Night Cirus was published in September 2011.
The Night Circus
In an interview with the School Library Journal, Morgenstern describes the short, self-contained chapters as recapitulating the myriad tents of the circus, and the black and white with a splash of red motif as showing dangerous passion simmering just below the surface.[1]
References
Community content is available under
CC-BY-SA
unless otherwise noted.